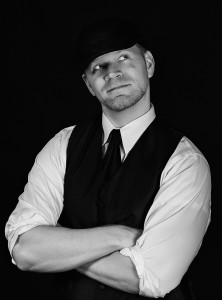 Maybe you don't need to know this but...

After seeing his friend get a lot of attention at school with a magic trick that came out of a cereal box, Tyler became interested in getting a lot of attention.
Shortly after his Mom brought him a magic book from the library, Tyler discovered his ability to completely screw-up building any form of magic apparatus. Luckily, he faired better learning sleight of hand with everyday objects. (This is particularly true if you consider bunnies made out of sponge, cork spheres covered with little sweaters and 3" Jumbo coins as "everyday objects.")
After a number of years spent performing as a part-time pro, he got a job selling magic tricks to "normal" people at the Mall of America. Three years later he upgraded to working at a real magic shop where he started his own magic school, TylerTeach. He became a full-time performer/instructor in 1999.
In 2000, when Tyler first joined Ring 19 of the International Brotherhood of Magicians, they awarded him with their "Magician of the Year" trophy. An award he received the next year (2001), and again the next (2002). He is the only magician in the history of the club to have won this award for three consecutive years. It helps that he had dirt on all the judges.
In 2003 he was admitted into 4F, the invitation only, international convention for elite sleight of hand practitioners. 200?: started teaching via the internet. Opened online school TylerTeach, eventually rebranding it as Stronger Magic. In 2011: did a week long workshop in France and also a lecture tour throughout Europe; in 2013: did a lecture tour throughout Southern Ireland. 2014: lectured in Spain, the U.K, and did week long workshop in Belgium, Lectured at International Magic and Magic Circle. 2015: Filmed appearance on "Nicholas" magic series on Belgian TV. Also filmed segments for Reel Magic Magazine. 2016: Consulted for two different FISM acts (one of which had already taken a prize in an early FISM competition) and two Magic Castle acts, along with a healthy block of clients moving from amateur to full or part-time professional work.
We have it on good authority  he did all  this just to impress you.
He has operated as a magic consultant for television appearances and acted in several industrial films as "magic hands," manipulating cards and other small objects. He has designed custom illusions for companies, and been hired to create/re-engineer effects (and sometimes entire acts) for other professional entertainers, blabity blabby blab, etc. If you're still reading this, you need to find better things to do with your free time.
Tyler hopes StrongerMagic.com will prove to be a useful contribution to the world of magic, and become his legacy. If you disagree, don't tell him; he cries easily.